Consulting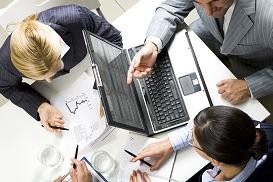 CCSS has years of consulting experience with software and hardware, working with a network of professionals to provide concierge style services to our customers. Many of these professionals are the people who helped to design or develop the software they are supporting.
Every project is managed in the concise and well defined methodology laid down while our Principal was a Regional Projects Consultant at Digital Equipment Corporation.
Project Staffing
CCSS provides project staffing from a network of consultants with whom we work regularly.
Bespoke Development
Custom software development is nothing new to CCSS. Custom software has been developed to implement new processes as well as to replace existing software due to changes in business environments for our clients.
Educational Course Development
CCSS Interactive Learning is an online OpenVMS learning system developed from the ground up. This technology stands as the basis of systems we can create for focused, online education.
Products
CCSS implements solutions for our clients. These solutions are sometimes translated into products which have a broader application than a single customer.
Open Source ports are also part of our product set. We utilize Open Source applications and utilities where necessary and appropriate to implement solutions for our clients. We then make them available as products we support.