System Management
OpenVMS is the CCSS system of choice, but if you use Unix, Linux, Windows or some other environment, that's no challenge. Expect seamless integration with your system, whether it's a small workstation or large clusters, with the associated networking and all the applications on those systems.
System management services are provided both remotely and onsite. It all depends on what is necessary for the customer and for the situation at hand.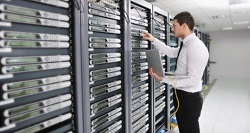 While many people think of this illustration as the typical job of a system manager, this really is not the case very often. Most system management can be, and in fact is, done remote to the servers and more often than not remote from the facility housing the servers. Remote console access and secure communications make it possible even to control the operation of the hardware from "power on" to "lights out".
Services can be related to a specific situation, such as a performance review or capacity planning, or they can be ongoing and multi-faceted. Addressing daily operation, capacity planning, performance management, disaster recovery planning, testing and execution, as well as inter systems networking, are routine at CCSS.
We would be happy to discuss your requirements and options for system management services.